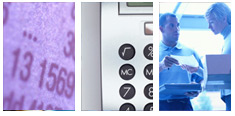 "If there is anything that a man can do well, I say let him do it. Give him a chance."
~ Abraham Lincoln

A Tradition of Service and competitive rates have established Quick Messenger Service as Montreal's business courier. With prices starting as low as $2.00 a delivery in the downtown core, we have a price schedule that meets your needs.

A sales representative can provide specific details on pricing and customize a schedule for your courier needs.

Phone us at 514 932-5173 and ask for the sales department.